Famous brands
---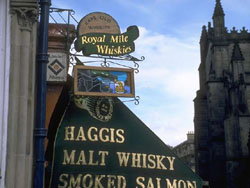 Campbell's tomato soup, Harrods, a Burberry coat, DKNY, Laura Ashley, Rolls Royce, Ford ...
Well, the list is endless - famous brands that almost everybody has heard of. Now is your chance to see how they are promoting their products. Go to two websites and have a look.
Assignment to be submitted:
Go shopping (serious shopping) at Harrods of Knightsbridge. The world's most famous department store has a few things to offer on its website as well (go to the different departments). Then go to some other famous department store and compare the two sites (Saks Fifth Avenue, Bloomingdale's, Marks&Spencer for instance). Submit a comment to your project discussion.
Look for other famous products; Guinness (the Irish beer), McVities (biscuits), Campbell's etc. Compare two sites and submit your comment to the project discussion.